OCT is highly sensitive in identifying pre-invasive and invasive cancer of the uterine cervix.  
Laser implications:
The Insight laser's fast measurement speed reduces movement blurring and supports high-definition 3D imaging.  Long coherence length allows more flexibility in imager distance.  Insight's clean optical signal provides more detail, higher contrast and less feature blur.
Additional general information:
Additional technical information:
Optical diagnosis of cervical intraepithelial neoplasm (CIN) using polarization-sensitive optical coherence tomography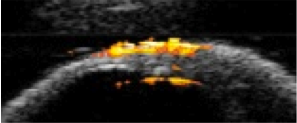 OCT image of a cervical cancer.

Comparison of normal cervical epithelium (left),
CIN3 (middle) and carcinoma (right).