About 1 in 8 U.S. women (just under 12%) will develop invasive breast cancer over the course of her lifetime.
In 2011, an estimated 230,480 new cases of invasive breast cancer were expected to be diagnosed in women in the U.S., along with 57,650 new cases of non-invasive (in situ) breast cancer.
About 2,140 new cases of invasive breast cancer were expected to be diagnosed in men in 2011. A man's lifetime risk of breast cancer is about 1 in 1,000.
Ultrasound-guided optical coherence tomography (OCT) appears to be an effective means for differentiating early-stage breast cancers from benign lesions, and, as such, it has the potential to reduce the number of breast biopsies women undergo for suspicious lesions.
Laser implications:
Insight's fast measurement speed reduces movement blurring and supports high-definition 3D imaging.  Long coherence length allows more flexibility in imager distance.  The clean optical signal provides more detail, higher contrast and less feature blur.
Additional general information:
Additional technical information: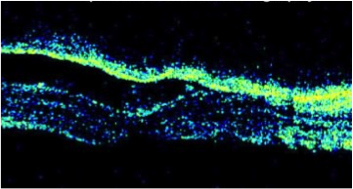 The dark area is indicative of a breast tumor.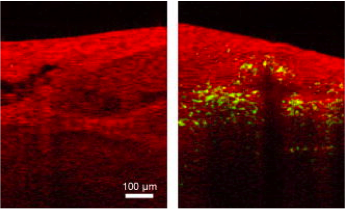 New OCT methods are improving
tumor indications.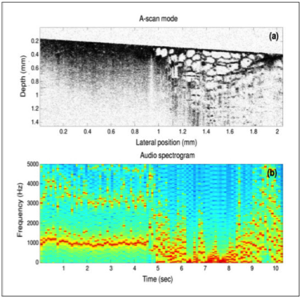 Audiospectagram of breast tissue to help
doctors interpret the data in real time.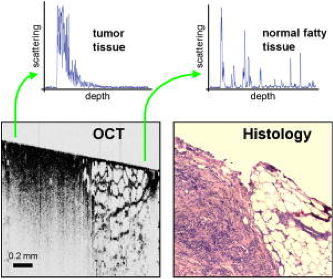 OCT indicating repetitive markers
for cancer cells.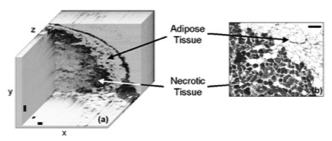 One of the first OCT images to show
highly distinct tumor tissue.

Correlation with OCT images
and biopsy results.