Optical Coherence Tomography (OCT) is being used as a tool for non-invasive structural imaging and has been successfully utilized in imaging of varnishes, glazes and underdrawings of paintings, glazes on porcelain and faience, structure of archaic jades, stained and archeological glass, parchment and recently for revealing the surface details of varnished punchwork. The thickness of layers in artwork may be directly measured with OCT in completely nondestructive, quick and convenient way as many times as necessary.  These images can then be utilized for real-time monitoring of conservation treatments, authentication, and evaluation atmospheric corrosion.
Additional general information:

A 3D rendering of paint layers.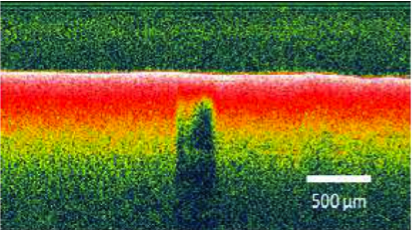 Image of oil painting over sketch made with pencil.